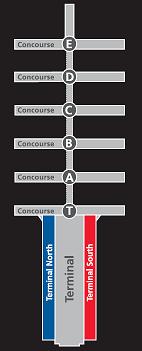 ATL might not be the world's most awful airport, but Hartsfield-Jackson Atlanta International Airport is officially the world's busiest airport. This doesn't mean, however, that your layover in Atlanta has to be an unpleasant one. Here are some tips to make your visit to ATL a little more tolerable.
The T Concourse: ATL's best kept secret. At any time day or night, Concourses A, B, C, D and E are bound to be packed. You will see people sleeping in the hallways, lines with 20, 30, or 50 people in them waiting to get into bars or restaurants, and a smoky haze across the concourse from the "contained" smoking lounges. If you're anything like me, you'd rather find a nice quiet corner of the airport than deal with this mess. Well, the T Concourse is what you're looking for. All the way at the end of the shuttle line (or a 6000 foot walk from the E concourse), it is far off the beaten path. There is no smoking lounge, which helps makes breathing here almost tolerable. There aren't quite as many bars and restaurants here, but there are a few, and they are almost never busy! Also, since Concourse T is the international concourse, the chances of striking up an interesting conversation with someone from overseas over a cold pint of Guinness are good. The last time I was in this concourse, I don't think I saw a single passenger. I did, however, see plenty of pilots and airport personnel taking their breaks here.
Don't take the shuttle. When migrating from one concourse to another, you might be tempting to join the crowd and pack yourself into the shuttle that runs between concourses. Unless you're really lazy or have health problems, I'd suggest walking it. There is one long hallway that connects all the concourses, and it has one of those "flat escalator walking accelerator" things, so it take about the same amount of time as the shuttle anyway.
Check out the art show. If you have some time to kill before your departing flight, be sure to head down to the hallway between the A and T concourses. There are some impressive works of art displayed in the middle of the hallway and on the walls.
Check your gate. It seems that every time I am in this airport, my gate changes on me. Be sure to check out the flight information monitors before heading out to your gate, as they may change even within minutes of boarding.
Keep checking back for more tips for dealing with awful travel situations. I have plenty of ideas to share. Also be sure to check out Jim's Travel Tips for some excellent travel advice from another seasoned traveler.