If you receive a letter like this, beware! They simply take your 37 dollar "membership fee" and you'll probably hear nothing ever again. I received this letter yesterday, and I live in the Pensacola, FL area.
This letter looks legit.. they even have a website: http://www.unionworkerscredit.com
But the fact that they asked for no information other than my signature raised a few flags. Their website is also littered with ads, not very professional.
Here is the letter. Click to enlarge: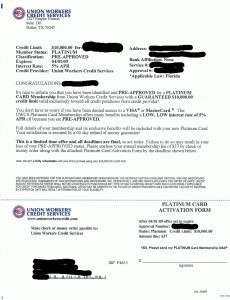 Union Workers
Credit Services
1327 Empire Central
Suite 130
Dallas, TX 75247

Credit Limit: $10,000 for: (my name)
Member Status: PLATINUM
Classification: PRE-APPROVED
Expires: 04/01/09
Interest Rate: 5% APR
Credit Provider: Union Workers Credit Services
Address: (my address)
Bank Affiliation: None
Service #: (number)
Approval #: (number)
*Applicable Law: Florida

CONGRATULATIONS (name)!

It's nice to inform you that you have been identified and PRE-APPROVED for a PLATINUM CARD Membership from Union Workers Credit Services with a GUARANTEED $10,000.00 credit limit valid exclusively toward all credit purchases from credit provider!

You don't have to worry if you have been denied access to a VISA or MasterCard. The UWCS Platinum Card Membership offers many benefits including a LOW, LOW interest rate of 5% APR all because you are PRE-APPROVED.

Full details of your membership and its exclusive benfits will be included with your new Platinum Card. Your satisfaction is assured by a 60 day refund of money guarantee!

This is a limited time offer and all deadlines are final, so act today. Failure to do so may result in your loss of your PRE-APPROVED status. Please enclose your annual membership fee of $37 by check or money order along with the attached Platinum Card Activation Form by the deadline shown below.

note: the $37 is fully refundable with your first purchase using your $10,000.00 credit limit.

(in smaller print):
YOU HAVE BEEN APPROVED FOR THIS PLATINUM CARD MEMBERSHIP OFFER BECAUSE YOU SATISFIED CERTAIN CONSUMER CRITERIA. VISA AND MASTERCARD ARE REGISTERED TRADEMARKS OF VISA INTERNATIONAL AND MASTERCARD, INC. RESPECTIVELY, AND ARE UNAFFILIATED WITH THIS OFFER OR UWCS. CREDIT AMOUNT REFERENCED HEREIN SHALL NOT BE CONSTRUED TO FUNCTION AS ANY TYPE OF MULTI-PURPOSE CREDIT CARD AND IS EXCLUSIVELY APPLICABLE FOR CREDIT PURCHASES FROM UWCS. ADDITIONAL CREDIT MAY BE GRANTED IN THE FUTURE AT CREDIT PROVIDERS SOLE DISCRETION. FAILURE TO RESPOND BY EXPIRATION DATE WILL RESULT IN TERMINATION OF YOUR ELIGIBILITY.